MailChimp- An Impressive Email Newsletter Campaign Tool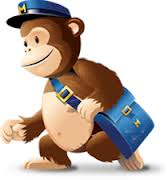 Do you own a small business? Are you targeting an email campaign for your product promotion? Would you like to closely follow up customers through email newsletters? Here is an interesting email newsletter tool to boost up your customer's communication. MailChimp!
Mailchimp is a simple email newsletter and customer campaign service tool, and lets you to send up to 12,000 emails per month for free!. The interesting part, you can customize your own newsletters using fresh pre-defined templates with colorful background, based on your need and creativity. So, either you can choose from existing templates or can build from the scratch. Template customization feature really attracts very much, since each business works differently.
Besides, MailChimp offers multiple cool features too. Like you can create your own business sign up forms, confirmation email, website sharing, FaceBook integration and quite other interesting features as well. Typically, it's an end to end email newsletter automation service all under one roof.
Group campaign: Would you like to conduct a campaign which driven by business region, groups, segments or even based on some activity? MailChimp does provides sound choices and completely customizable. You can upload image files or product portfolio photos into your newsletter template for improved look, and this service is absolutely free. So, users have the complete freedom to design their campaigns, as how they would like to be and can categorize as needed.

Report Tracking: Are you interested to track your newsletter campaign results? It's simple. MailChimp offers a handy and intelligence free report service, where it renders numerous data collection to address, who's opening, clicking, and coming back and more from your campaign. I believe this would really help to understand your customers very well. Tweet trend tracking and Google Analytics integration are another cool options and would help to understand your business website traffic and the campaigns live impact.
Mailchimp service also available as smart mobile version for IPhone and Android series, where you can conduct ad campaigns for smart mobile lovers. This might get well noticed, since smart mobile marketing is the uptrend orbit and the results we know are very exciting.
Ultimately, Mailchimp facilitates you to complete your customer anticipation and helps a lot to improve your newsletter campaign become more powerful and success.
Just have a try and share with me your experience.
Related Posts :