BioStamp- A Printable Medical Diagnostic Sensor For Skin
Are you sports enthusiast? Do you workout a lot and get dehydrated often by low fluid level? I believe this news would be interesting to you. An interesting medical electronics occurrence from a company called – MC10 Cambridge. Massachusetts.
Basically, MC10 is very famous for its radical medical electronic products and the latest entry has called Bio-stamp. So, How it works and what does it offers? Well. We know tattoo. Bio-stamp is kind of a electronic Tattoo for the skin as another layer, where it has embedded with stretchable electric circuits. Basically, it's as similar as Band-Aid strip on the sk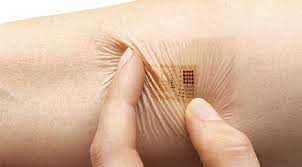 in, but with very low Nano scale thin and forms as second layer on the skin. MC10's most of the bio electronic products which can bend, flex and stretch as needed without compromising on quality where it got accepted and credited by industry leads.
For most athletes, or people who workout daily at gym under tight schedule may often face issue with dehydration or low fluid level, which could cause peak performance and health issue. Indeed, this is not specific to athletes rather common to everyone at most time. On process side, Since the Bio-Stamp patch got embedded to the skin, it directly communicates with our system and sends Smart Phone alerts that clearly indicates when and how much you need to drink. This will help you to lower your fatigue and can continue your practice.
Since the Bio-stamp is so thin nobody can not see through it and the stamp just sits as invisible layer on the skin. MC10 is closely working with famous sports personalities, Athletes and Athletic gear companies like Reebok to stretch their products to take next level and is on.
Also,another interesting thing, MC10 has join the hands with US Army which truly related to renewable energy and also for making innovative military gears. Like their Bio-Stamps, helps to monitor soldiers hydration level and body temperature condition from remote battle field or it even helps to collects data from submerged submarine remotely where every they located.
Also, MC10 produces stretchable solar cells which is wearable as a patch on army fabric, cap, and jacket where it tremendously helps to reduce the weight of gears and helps a lot to power up all the electronic devices which they carry. This entirely uses solar power cells which runs by stretchable patches. A clean renewable energy process and MC10 got green award as well.

MC10 is currently more focusing on wireless driven Bio stamps and waiting to make it commercial for public use. I believe, we can see many Terminator movie characters on real life soon, where the Smart phone would keep beeping to indicate your system health status which would be truly amazing.
Well. Its your turn now. What do you expect from future medical electronics? Just share your views.