Android Tops Ahead On Mobile OS Market For 2013
Have you ever thought Android or Apple's iOS could extinct or drag down on market by other Smart mobile OS competitors? If you say Yes, I would like to share this interesting market study results to you. We know that the Smart mobile market is already flooding with multiple OS choices and eye popping Smart devices. So, Let's check some interesting statistics as how this got welcome by community on recent times.
Recently, A leading market analysis and study firm IDC (International Data Corporation) has released their mobile OS trend analysis for 1st Quarter for worldwide, and it looks Android and iOS are becoming inevitable at least for another decade, and to me, it appears giants who are on the same ladder may require tremendous energy and creativity to catch some meaningful market share down the road.
According to IDC, Google's Android and Apple's iOS are the top two ranked OS worldwide, for the 1st quarter of 2013. Just check at this jaw dropping percentage..92.3%! The Smart mobiles sold and shipped during this period was pretty much carried either android or iOS driven devices worldwide and the rest are on single digits. The latest entry and the mobile market sensation, Windows Phone and BlackBerry shares just 3.2 and 2.9% respectively and seems some slow pickup on track. Per IDC, almost 199.5 million of devices sold worldwide for android and Apple during 1st quarter 2013 and unconditionally a tremendous success.
Apple's new marketing strategy, IPhone5, IPad, and latest iOS entry which makes clear and positive credits to Apple for capturing this 17.3% market share, where it enjoys the largest ever first quarter results when compare Apple's past performance. When it comes to Google, Still it holds the awesome 75% of smart mobile market share on its bag pack. Yes..75%!. Question for you..! Do you think android is becoming more success and most preferred OS, either due to technically sound Smart devices availability like Samsung S3, Motorola Razr, LG series or the wide availability of android driven apps and it's easy portability?  However, That's one of the main trump card to consider I believe.
To me, Samsung's Galaxy mobile series and it's intuitive Smart mobile concepts are also one of the main reason for this incredible success and the increased users volume, though Google holds its own Motorola Razr on its wallet. Still Razr needs to travel long way to compete with these Smart device giants to see some potential market share. Per IDC, Samsung still rules the planet with its commanding 41.1% market share during this quarter of 2013 and appears this trend may continue unless Apple comes out with its Nextgen IPhone series.
In my earlier article I did mention about it. Samsung really doing amazing job on display media technology and undeniably a clear winner on Smart mobile segment. Of course, it holds many negative corners on the device, like the battery and power management is one of the killer. But, still it takes the lead due to its flexibility, Design, Features, and data portability.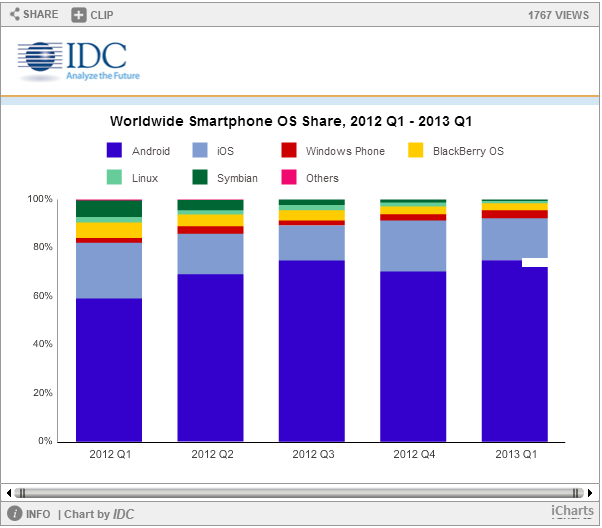 It sounds like, Steve paved the path for Nextgen communication technology and Samsung just drives on the road with its own strategy and marching as winner on the track. From my view, the whole credit goes to Steve and his team for the innovative mobile concepts, and no doubt Steve the man who stands behind the touch screen and keyless phone magic which changed our world. The year 2008 was a great period on communication technology and rest we all know. History. Invention is a real birth. Not a clone.
Back to article, The question raised to me, what does Symbian, Linux, Ubuntu, and BlackBerry kind of OS breeds need to lookout now to penetrate and hard hit strongly on market? Does users friendly features and good marketing strategy will make them success? Why Samsung becoming more popular though Apple holds its long blue-chip product history?. What would be your primary focus when you incline on buying new Smart phone? Like, Device quality, Apps availability, OS features, Brand Name? Just share your views.
Image Credit: IDC